TRUCK CAPS & TONNEAU COVERS
Browse our entire selection of high quality crafted truck caps and tonneau covers for your vehicle. All of our products are built to the highest quality providing you with a truck cover that will fit perfectly and provide you with long lasting utility.
CAB-HIGH TRUCK CAPS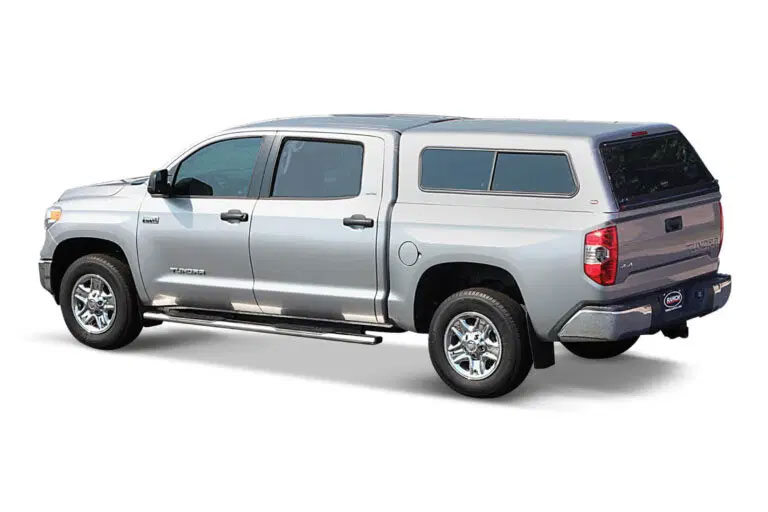 ECHO
Exceptional value with all the necessities.
The Ranch Echo provides all of the necessities required for a basic truck cap. With sliding side windows and a dual locking rear window, this truck top has the security and durability needed for a functional and stylish topper.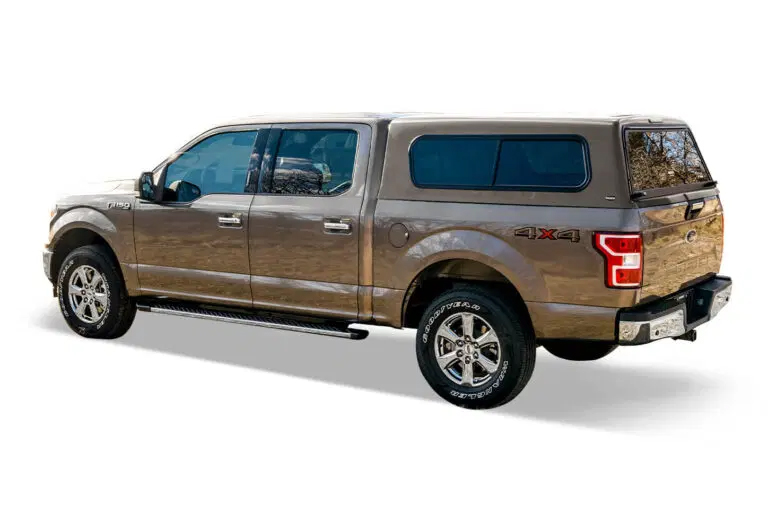 SIERRA
The best buy for buck.
The Ranch Sierra truck cap provides more amenities while being extremely affordable. Tri-cell honeycomb structure and heavy duty aluminum rear door ensure a solid structure on the top, while the tinted glass and custom fit rear skirt give it a sleek and seamless look and fit.
SIERRA XTRA
Solid value with a little bit more.
The Sierra Xtra truck cap provides the same basic features as the Sierra, but with a little more added value. Along with the custom fit rear skirt and tri-cell construction, this model includes carpeted headliner made from recycled bottles as well as a triple seal system to help keep the weather out.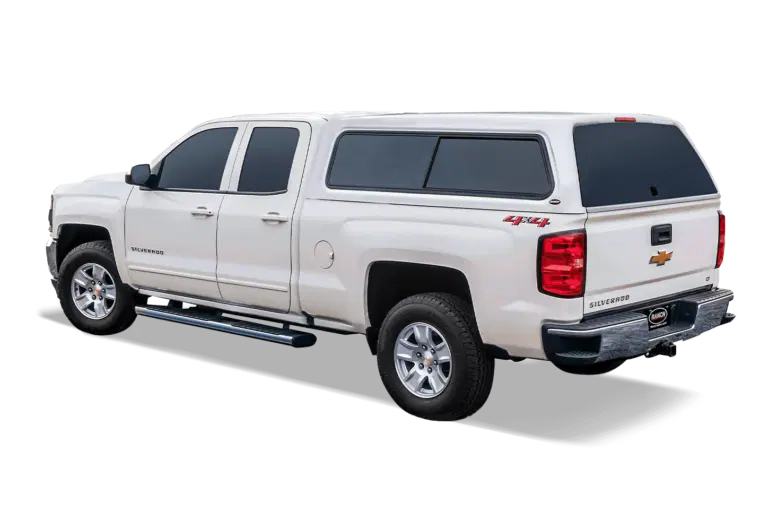 FUSION / FUSION CLASSIC
Stylish design with maximum ventilation.
The Ranch Fusion truck cap blends style and versatility. Featuring a large sliding side window and frameless rear door, the Fusion provides maximum airflow and accessibility while providing a clean look.
ICON / PREMIER
The top of the line.
The Ranch Icon truck cap is a clean design with an all-glass rear door showing only a handle. This top features carpeted headliner, tinted windows, and a large side window. With 12V interior lighting choices, roof rack addition, and keyless entry available as an option, the Ranch Icon/Premier is the ultimate addition to any truck.
MID-RISE TRUCK CAPS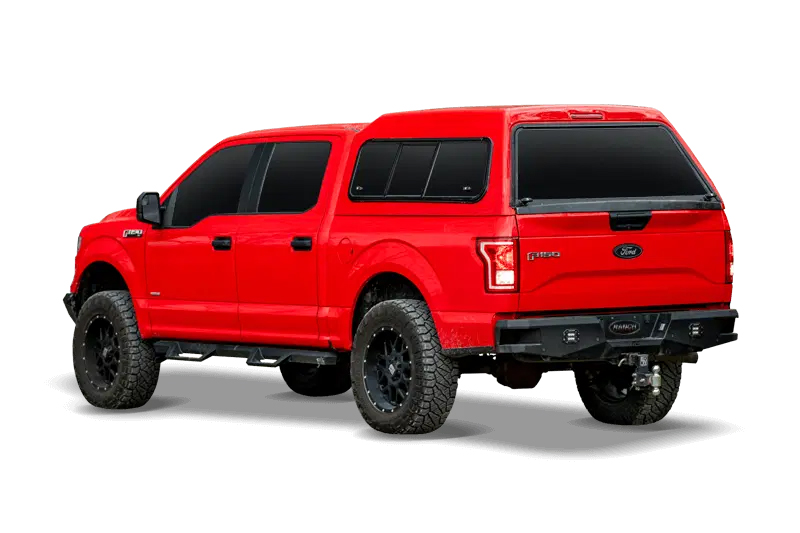 SKYLINE
Easy access with a little more room.
The Ranch Skyline truck cap features several amenities as the other models like large sliding side windows or a heavy duty rear door, except with a mid-rise roof providing the ability to tackle larger cargo. With its aerodynamic styling and extra cargo space, the Skyline is a topper that takes any truck to the next level.
HIGH-RISE TRUCK CAPS
XD
Greatly increased cargo space for bigger loads.
The Ranch XD is the largest mid-height cap on the market. The aerodynamically designed raised roofline provides a lot of additional cargo space. With its large aluminum framed heavy duty rear door, the XD keeps stored cargo secure and ready for the job.
TONNEAU COVERS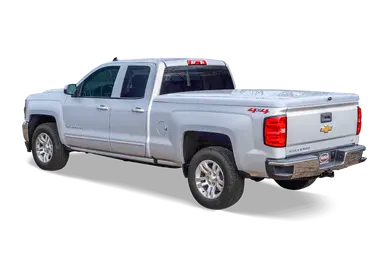 LEGACY
Stylish and accessible tonneau cover.
The Ranch Legacy tonneau cover features a style line that rounds out the look of any truck while maintaining subtlety and cleanliness. Featuring an EZ push lock, lift assist arms, and a front piano hinge design, the Legacy is easy to open and access cargo while keeping it secure.
SPORTWRAP
Sleek profile tonneau cover with exceptional quality.
The Ranch SportWrap tonneau cover has a smooth top design paired with a wrap over style fitment giving a clean look to the bed of the truck. With its tri-cell honeycomb construction and 1200lb strength tested rotatry latches, the SportWrap is durable and ready for any job.
COMMERCIAL TRUCK CAPS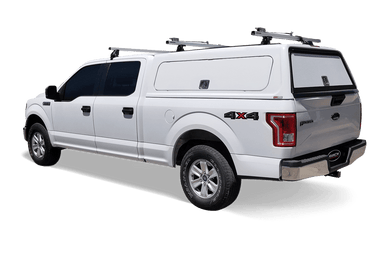 WORKFORCE
Seamlessly added utility.
The Workforce truck cap is a simple solution for adding utility to any truck. Easily access tools with folding T-handles on fiberglass side doors and the aluminum framed rear door. Any truck can be transformed into a work truck with the Workforce commercial truck cap.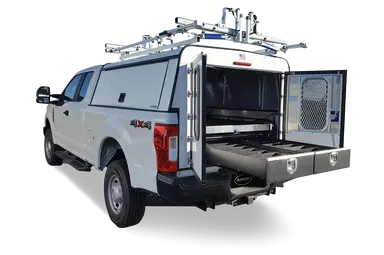 PRO SERIES
Powerful security meets long lasting durability.
The Pro Series is the ultimate commercial truck cap providing you with increased security and the durability you need. Featuring a TIG welded aluminum frame, .040 gauge aluminum skin on all sides, and protective inner liner this cap is rugged and strong. With its Strattec lock cylinders and 3 point locking system, you can rest assured that your tools will be safe.
class="button btn-secondary w-100" style="text-align: center;">CALL US
class="button btn-secondary w-100" style="text-align: center;">EMAIL